The Patio
Our rustic and chic spaces are uniquely decorated, comfortable, and spacious. Our rear entry patio entrance opens into a cobbled "stable courtyard" with bench seating and hefty trestle tables that encircle a smithy forge fireplace. The patio seating fills the open courtyard, making it the perfect setting for a casual event. Our entry and hallways are a reference to what might have been a re-purposed stable, with rough-sawn plank walls, brick floor, and "stall gate" windows which open into three distinct dining areas. These comfortable and inviting spaces will blend perfectly with your next event. We hope to see you soon!
The Bar
The bar can be described as a comfortable "Gentleman's Bar" similar to an English pub style with battered tables and common bench seating with nail-head trim. The walls are paneled walnut with leather insets and library sconce lighting. The front bar has a generous walnut lean rail and is accented in granite panels.
The smaller adjacent porch overlooks the courtyard, but feels like a private club room.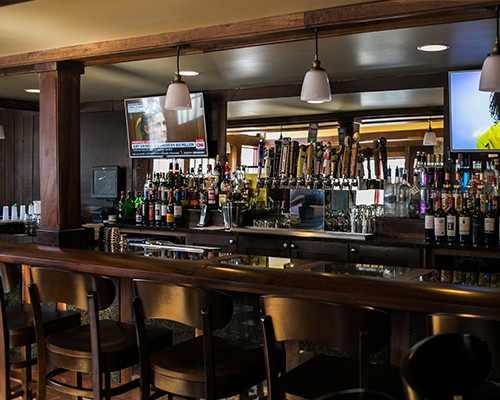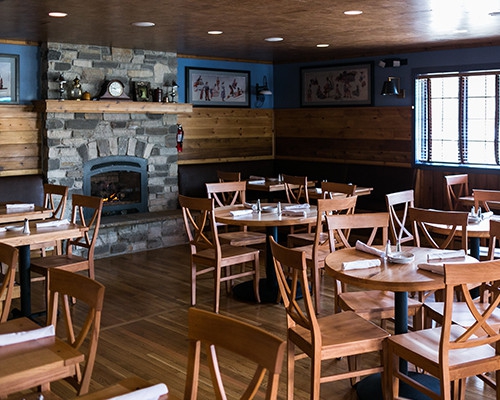 The Roadhouse Room
The south room has the comfortable feeling of a 1940's lodge with pine wall paneling and a large central fireplace. It is warm and inviting in brown leather and sea blue walls with bench alcove seating, cork ceiling, and old fashioned scissor sconces.
It has a relaxed and inviting atmosphere where families, friends, and couples would feel equally welcome.
The East Room
The East Room has the elegance of a private railway dining car with curved ceiling and a carved mirror end wall that is illuminated by corner table lamps. It has rich blue and gold upholstered banquettes and cherry furniture. An interesting detail is the vintage collection of early railway china and silverware.